My mom almost dropped her coffee mug in the morn as she heard me scream...she popped in to ask what the hell it was with me...
I was staring at my new digital scales and in anguish and anger that I shouted to her "I wanted to jump on them"...but what did they do?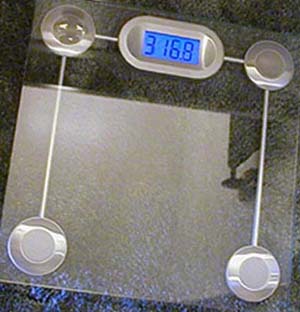 Those new glassy digital scales weigh me down to grams and it has become as common as for a women to look into her purse-mirror...I jump onto these things, every half an hour or so - before coffee -after coffee, before lunch - after lunch, weigh at the morn and weight at night! Gosh! This ritual happened until mom and dad suspected that I may be suffering from Body Dismorphic Disorder (even I didn't get it first but it actually means you are too body concerned - like Paris Hilton!)
Finally, I learned that I gain around 500 gms by day and lose around 300 gms by night. From the time I came Oman, I haven't been exercising, not even walking!
Every evening I think of heading out, bring my sneakers to my sofa, sit and realise there is remote under me and you know next minute I will be on cartoon network - eventually my sneakers are pushed back to their rack!
The only walk I have done after coming here is to that foodstuff shop - head straight to the fridge and grasp few bottles of moussy or some non-alc beer and head back..at times with a few bars of galaxy ( I love the hazelnut ones) and bless God for my parents are loving my indulgence -- in fact my dad said that I look like a fox!! ( I took as a compliment though!)
But today, I have gained a total of five..yes FIVE kilos (bless those buttery sweets) and so I felt really down and ate few more bars of galaxy (I do so when I am extremely depressed) before I remembered there is a dusty exercise peddler which was conveniently snuggled into home's dark corner...
Now - I have placed (strategically) in hall (so that I get to see TV) with a goal to pedal down the gain...but now that is so cold..I convinced myself that I needed few fat layers for warmth!
The pendulum swings back!